Dayton Warm Breezes Blog & News
4/1/2017
Club demographics as of the first of April: Total club membership – 57
# of men – 37
# of woman – 20
% women – 35.1%
# of couples – 17
# of single men – 20
# of single women – 3
# of club members who are also AANR members – 20
# of club members who are AANR members through another club or resort - 7
# of non-club members who AANR members through the club – 7
2/12/17
The primary email address of the club has been changed to Admin@daytonwarmbreezes.club
9/18/2016
The club performed the very first AAH trash pickup. We did both sides at the same time and it took just over 2 hours.
8/16/2016
Dayton Warm Breezes Naturist Club Adapt-A Highway signs are emplaced on our section of Rt 40 between Rts 201 & 202.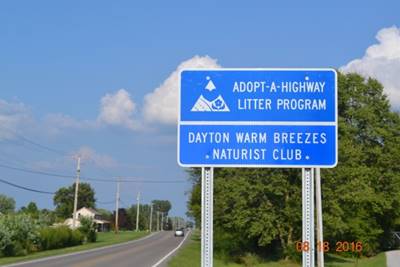 6/15/2016
Conducted initial AAH training to AAH volunteers.
5/1/2016
Received official application approval in the ODOT Adapt-A-Highway program.
6/1/2016
Club demographics as of the first of June:

Total club membership – 44
# of men – 29
# of woman – 15
% women – 34.1%.
# of couples – 14
# of single men - 15
# of single women – 1
4/23/2016
The club held its very first nude swim. It was very successful with 45 people attending. We drew people from Cleveland and Cincinnati. We also had 4 people join the club with a commitment from a fifth. This will increase our membership to 43.
4/13/2016
Applied to the State of Ohio Department of Transportation (ODOT) for membership in the Adapt-A Highway (AAH) program.
4/2/2016
The primary email address for the club has been changed to
Contact@DaytonWarmBreezes.club
3/14/2016
The club acquired the additional domain of www.DaytonWarmBreezes.club which we believe is commensurate with who we are.
1/23/2016

The President of the club resigned. The title of the Secretary/Treasurer was changed to Club Admin.
10/2/2015
The club held a Fall Meet-n-Greet. We had a total of 19 people at the meeting, 16 members but only 3 non-members. We went over venues for the upcoming season including an exciting idea about renting a remote cabin.
10/1/2015
Dayton Warm Breezes celebrates the one year anniversary of the formation of the club. On 10/1/2014, we met at John & Sharon's, elected officers and submitted membership applications. At that time we had 13 members. Now, one year later, we have 40 members and growing steadily. It has been a very interesting year.
9/29/2015
Granted full charter status by AANR.
9/23/2015
Submitted paperwork for the club to become a full chartered member of AANR.
6/1/2015
- Club Demographics: As of the beginning of August, the club has 38 members, 23 men, 15 women. about 60/40. Of the 38, 32 are members of AANR, 10 through another club, 22 through our club.
5/15/2015
The club held a second Spring meeting for new members. Following the meeting, we had an impromptu hot tub party at John & Sharon's. One couple joined the club giving us 32 members. The same couple also joined AANR giving us 20 AANR members who have joined through the club.
4/18/2015
DWB held a Spring Meet-n-Greet for new prospective members at a restaurant in Huber Heights. There were 10 club members and 4 non-club members in attendance. Thank you to the club members who came out to greet the new people. One person joined the club. We now have 29 members in the club.
4/1/2015
- Club demographics: As of the beginning of April, the club has 28 members, 16 men, 12 women. Of the 26, 24 are members of AANR, 11 through another club, 15 through our club. In addition, we have 3 non-club members, who are members of AANR through our club. That gives us 18 of the 15 we need to apply for full charter. Full charter application will be held off until we have about 20.
3/1/2015
- Club demographics: As of the beginning of March, there are 26 members in the club, 11 women and 15 men. Of the 26, all but 2 are also members of AANR. 12 are members of AANR through another club and 12 are members of AANR through our club. There are 11 people on the list of prospective members.
1/5/2015
Received Provision Charter status from AANR. We have two years to sign 15 members to AANR through our club in order to become fully chartered.
11/28/2014
Applied for AANR Provisional Charter.
11/8/2014
DWB held a second membership meeting at BWW in Centerville. It was well attended. We took applications from two more couples. The club now has 17 permanent members.
10/1/2014
DWM held a membership meeting at John & Sharon's and was quite successful. Those who wanted to be members of the club submitted applications and paid the annual dues. We now have 13 members. A very good discussion was held with several possible venues suggested. Richard K was confirmed as the president of the club and John B was confirmed as the secretary/treasurer. This is the official date of the formation of the club.
7/21/2014
A 'secret' group was created on Facebook. Being secret, no one from the Facebook public can see who the members are or the posts by members. Member requests must be approved by the group admin which currently is John Burkett


6/16/2014
On June 14th, we had an informal club gathering at Sunshower Country Club. It was their open house and our purpose was primarily recruiting. A few contacts were made and flyers were left in the Sunshower office.
6/3/2014
We held our very first club meet-n-greet last Saturday 5/31. The attendance was very disappointing. There a total of 7 people there including Rich, John and our wives. Thanks to those who did come out.
We came to a firm decision on how the club's clothes free policy will read.